Day 1 :
Session Introduction
University of Aberdeen, UK
Time : 10:00-10:30
Biography:
Serena Simonetti is a second year PhD student in Chemical Engineering at the University of Aberdeen, with expertise in recovery of energy and materials from waste. She studied Industrial Chemistry (MSc) at the University of Rome "La Sapienza" with specialisation in Environment, Resources, Energy and Safety. She is co-author of a paper concerning the use and characterisation of biochar for anaerobic digestion, result of a one-year thesis project carried out at the National Research Council- Water Research Institute of Rome. She also has a three-month research experience at the Helmoltz- Centre for Environmental Research of Leipzig.
Abstract:
Volatile fatty acids (VFA), ethanol and lactic acid are intermediate liquid products in anaerobic digestion (AD), whose economic value is higher than methane. They are currently produced from petrochemical sources and food crops and their industrial production from AD is not yet economically feasible, because of high recovery costs and product inhibition. Hence, a concentrated substrate, rarely investigated, would facilitate their recovery and lead to a higher volumetric productivity. To maximise yield, concentration and productivity, batch and semi-continuous reactors were run, investigating different food waste (FW) concentrations, hydraulic and sludge retention times (HRT and SRT). For the process economy, room temperature was maintained and pH was uncontrolled, reaching acidic values that inhibit methanogens. Lactate was the main product, representing 80% in most experiments, followed by acetate, most probably due to the low pH (around 4). Substrate concentrations between 429 and 27 gCOD/l were assessed in batch runs. Results achieved with a more concentrated FW have so far been promising, reaching a maximum product concentration of 60 g/l with 429 gCOD/l of feed and similar yields at all concentrations (18-8% COD/COD). Different HRT and SRT were investigated in combination with different substrate concentrations. A maximum product concentration of 16 g/l and productivity of 6 g/l*d were obtained in a sequencing batch reactor (SBR) with HRT of 2 days, SRT of 5 days and fed with 107 gCOD/l. However, maximum yield of 27% COD/COD was achieved in a continuous stirred tank reactor (CSTR) with HRT of 30 days, fed with 54 gCOD/l.
Hassiba Benbouali University of Chlef, Algeria
Biography:
The author is a doctor from the Algiers National School of Agronomy, and a research professor in the animal sectors at the University of Chlef in Algeria. He has taught 17 subjects and supervised several master's and engineer's dissertations and currently supervises a doctoral thesis. He has produced several publications and papers in international congresses and two books in the field of animal sciences
Abstract:
The development of cattle breeding has always been a priority for Algeria to meet the needs of the population for animal protein. But this breeding knows a weak integration of the adopted technical models resulting in a weakness of productivities.
A survey was conducted during the period from March to May 2018 at 75 farms, comprising a total of 488 cattle. For this, the following aspects have been developed and which are the age of the breeder, the existing cattle breeds, cattle numbers held by the breeder, the condition of the buildings, season of insemination, the average age of the heifer at the onset of the first heat, the signs of heat identification, the time interval between the onset of heat and artificial insemination, numbers of inseminated VL, time of gestation diagnosis after insemination, establishment of the diagnosis of the pregnancy, the means the diagnosis of the pregnancy, the difficulties of calving, the periods of rest of the females and the rest period, the factors of success of the insemination.
It can be said that there is a weakness in the practice of artificial insemination, due to the lack of know-how among breeders for the mastery of this technique. In fact, almost half of the farms practice artificial insemination in dairy cows, while the other half practice natural breeding and are reluctant with respect to this reproductive biotechnology. As a result, breeders are far from practicing 100% of this technique.
Achievers University Owo, Nigeria
Biography:
I am a Microbiologist with wide interests on the areas of research and products like development, biotechnology, bioremediation, food and industrial Microbiology. With disciplinary research experience in microbiology. I am resilient and detail-oriented.I have technical expertise in hematology, cell culture, microscopy, Skilled in scientific writing. Member British Society of antimicrobial chemotherapy (BSAC), Member American society of microbiology.
Abstract:
Microbial enzymes are biocatalysts that play an important role in metabolic and biochemical reactions. They have been paid more attention due to their active and stable nature than enzymes from plants and animal sources. Microbial enzymes are of great importance in the development of various biotechnological and industrial bioprocesses. Current applications are focused on many different markets including pulp and paper, leather, detergents and textiles, pharmaceuticals, chemical, food and beverages, biofuels, animal feed and personal care, among others. Today there is a need for new, improved and more versatile enzymes in order to develop more novel, sustainable and economically competitive production processes. Microbial diversity and modern molecular techniques, such as metagenomics and genomics, are being used to discover new microbial enzymes whose catalytic properties can be improved and modified by different strategies based on rational, semi-rational and random directed evolution. Most industrial enzymes are recombinant forms produced in bacteria and fungi such as lipase, lactase, aminopeptidase, acid proteinases, cellulases, chitinases. glucose oxidases are enzymes naturally produced from bacteria and fungi microorganisms.
Prof. Dr A. Zlatarov" University, Bulgaria
Biography:
Tzonka Godjevargova has completed her Phd and currently she is a professor at Department Biotechnology in "Prof. Dr A. Zlatarov" University, Burgas, Bulgaria.
Abstract:
Enumeration of the stem cells and leukocytes in peripheral blood and aphaeresis samples was performed by using biomarker expression of CD34+ and CD45+ proteins on their cell surface. The aim of this study was simultaneous counting of live stem cells and leukocytes in aphaeresis samples by using two different fluorescent conjugates. The conjugate between anti-CD34 monoclonal antibody and fluorescent dye DR110 stained stem cells in green color. The conjugate between anti-CD45 monoclonal antibody and fluorescent dye ATTO620 stained leukocytes in red color. The conjugates anti-CD34 antibody – DR110 and anti-CD45 antibody – ATTO620 were prepared by carbodiimide method and purified by gel filtration. The counting was performed by using a new automatic fluorescence microscope EasyCounter BC. The dead cells were counted by monomethyne cyanine dye – Sofia Green. The analyses of six aphaeresis samples were performed. The obtained results by EasyCounter BC were compared with results received by other two standard methods – flow cytometry (Guava easyCyte 8HT) and fluorescent microscopic method (Olympus BX51). The obtained cell counts from EasyCounter BC and the flow cytometer were very similar. The coefficients of variation of the obtained results with EasyCounter BC (3-6%) were lower than those with the flow cytometer (5-8%) and with the Olympus microscope (14-18%).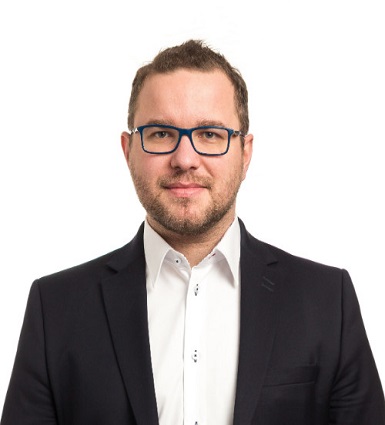 Biography:
dfa
Abstract:
daf
Prof. Dr A. Zlatarov University, Bulgaria
Biography:
Yavor Ivanov has completed her Phd and currently she is a professor at Department Biotechnology, in Prof. Dr A. Zlatarov University, Burgas, Bulgaria.
Abstract:
Ochratoxins are possible human carcinogens and development of sensitive immunoassay for its determination in foods is very important task. The aim of this study was to develop sensitive ELISAs on the base of mice monoclonal antibody (mAb) against ochratoxin A (OTA) or its F(ab)2 fragment. The mice mAb was produced in vitro using tissue-culture techniques. The activity of the obtained anti-OTA mAb was measured. F(ab)2 fragment of anti-OTA mAb was obtained by pepsin hydrolysis of the produced mAb. A indirect ELISAs were performed by using obtained F(ab)2 fragment and anti-OTA mAb. Peroxidase-labeled secondary antibody was used. The analytical characteristics of the indirect ELISA with F(ab)2 fragment were compared with those with mAb. The linear range of OTA in phosphate buffer at immunoassay with F(ab)2 fragment was from 0.1 to 100 ng/mL. The linear range of immunoassay with the whole anti-OTA mAb was from 0.1 to 10 ng/mL. The obtained results were compared by certified mice mAb against ochratoxin A. The linear range with the certified mAb was from 1 to 500 ng/mL. The developed ELISAs with obtained F(ab)2 fragment or produced anti-OTA mAb have possibility to measure low OTA concentration.
Universidad Andrés Bello, Chile
Biography:
Carolina Quezada has completed her PhD in Biotechnology at the University of Manchester on 2016 and now works as a postodotoral research scientist at the Center for Bioinformatics and Integrative Biology (CBIB) at Universidad Andrés Bello, Chile. Since her PhD she has been studying bacterial redox proteins, managing to cristalise for the first time a reductive dehalogenase with potential applications in bioremediation [Nature 2015; 517(7535):513-516]. Now her work is focused in the design of greener solar cells using biological compounds and biosynthesized nanoparticles.
Abstract:
The sun is the most clean, abundant and available source of renewable energy. First generation solar cells allow the conversion of solar radiation into electricity with an efficiency of ~25%. Nevertheless, photovoltaic market is evolving to improve production costs, efficiency and sustainability. New generation of solar cells are sensitized with different molecules like dyes, nanoparticles, and more recently proteins have been tested as photosensitizers. In this study, a redox protein (azurin) coupled to CuInS2 quantum dots (QDs) are used as photosensitizers in a Grätzel solar cell. The azurin gene was identified within the genome of a strain from our collection of Antarctic bacteria (Pseudomonas fluorescens 198). This gene was cloned and overexpressed in E. coli, and the His-tag purified azurin + CuInS2 QDs were incorporated in a sensitized solar cell, using TiO2 as anode and Pt as counter electrode. In our laboratory, biomimetic and biosynthesized nanoparticles of CdS and CuInS2, among others, have been successfully used as photosensitizers. Preliminary studies have indicated an increase in 56% of the efficiency when the azurin is incorporated to the cell, compared to the cell sensitized only with CuInS2 QDs. The efficiency is also improved when CdS QDs are coupled to the azurin (42%). The most stable orientation of the His-tag azurin in the TiO2 layer is being studied by hybrid quantum mechanics/molecular mechanics (QM/MM) calculations, in order to determine if any particular position favors the electron transference to the anode. This project is supported by FONDECYT grants 3170718 and INACH RT_26-16.
Development Center for Biotechnology, Taiwan
Biography:
Dr. Hsu has completed his PhD at 2010 from National Tsing Hua University in Taiwan. He is now the Research fellow of Development Center for Biotechnology, a non profit-making organisation sponsored by the Technology Development Program of Taiwan's Ministry of Economic Affairs. He has published many papers in reputed journals and is the inventor of more than 5 granted patents in biotechnology applications
Abstract:
Antibody drug conjugates (ADCs), a promising next generation antibody drug, combine tumor specificity with highly potent cytotoxic payload for improve therapeutic efficacy in cancer therapy. However, due to the manufacture issues and producing heterogeneous products of random conjugation of ADCs, here we report a highly efficient glycogengineering technology by using a GnT-I (N-Acetyl glucosamine transferase I) and a GnT-II (N-Acetyl glucosamine transferase II) as enzymes to conjugate a tri-mannosyl core antibody and produce an versatile ADC. Our results show that a homogenous tri-mannosyl Herceptin-2(GlcNAc-triazole-DBCO-(PEG)4-DM1)-2(GlcNAc-triazole-DBCO-PEG4-Vc- PAB- (PEG)2-Duocarmycin) is generated with the conversion efficiency over 90% and 50% recovery rate. The results indicate that the tri-mannosyl ADC has not only with highly potent cytotoxicity (IC50<1.2 nM) than Kadcyla, but also with better anti-tumor growth activity in BT-474 and N87 xenograft (TGI>90%).
Universidad de Chile, Chile
Biography:
Catalina Landeta is a Biologist from the Catholic University of Ecuador, has a Magister in Environmental Management and Auditing from the Polytechnic University of Catalonia, Spain, a Magister in Energy Engineering, mentioning biofuels from the Catholic University of Chile. She is currently a PhD (c) in Chemical Engineering and Biotechnology at the University of Chile. She has worked for more than 4 years in nationally recognized research projects of biorefinery of lignocellulosic materials in Ecuador. In Chile, the researcher is generating projects related to seaweed biorefineries and the study of marine fungi associated with algae. At the moment she is Director of a project to obtain a functional protein additive for feeding based on seaweed and fungi.
Abstract:
Seaweeds have a fundamental structure of complex polysaccharides that restricts the efficient obtaining bioproducts. Marine fungi have the capacity to assimilate these carbohydrates. Since a couple of decades ago some species of fungi have been used to produce important proteins called Hydrophobins (HFBs). Hydrophobins are amphiphilic and active proteins on the surface and has been proposed in the pharmaceutical, food and nanotechnology fields. The objective of this study was to isolate and characterize HFBs from marine fungi feeding with carbohydrates from seaweed. A screening of strains of Ascomycetes marine fungi and filamentous (NBR collection), was carried out, in order to find the fungi with the ability to assimilate alginate and cellulose from seaweed, and produce HFBs. The use of algae and waste from the algae industry to produce HFB, using the submerged fermentation technique, was evaluated. Also, the parameters of salinity, incubation, temperature and pH were evaluated and 4 different methods were set up to extract HFBs of class I and II, from the mycelium and culture broth. This HFBs were analyzed by SDS-PAGE, Far-UV circular dichroism spectra and emulsification capacity. The best medium for improve the yield of putative HFBs Class I, in D. salina and Penicilium pinophilum was alginate medium in the culture broth, producing 258 and 280 µg mL-1, respectively. The characterization of these putative hydrophobins shows that: a good emulsification capacity and a molecular weights less than 14 kDa. The circular dichroism absorption spectrum shows that these proteins have a characteristic alpha helix contribution. The fluorescence spectrum with ThT shows that these proteins are self-assembled in rodlet. It is achievable to extract HFBs with characteristics of Class I of P. pinophilum from a minimum medium with Ulva sp. Thus, these microorganisms could be excellent sources of HFBs, using seaweed as a carbon source.