Venue & Hospitality
Welcome to the Official Attendee Accommodation site for the
16th Asia Pacific Biotechnology Congress 2018,
scheduled at Singapore. Accommodations will be provided at:
Holiday Inn Atrium 317 Outram Road, Singapore 169075
Conference Dates: August 15-16, 2018
Hotel Services & Amenities
Audio/Visual Equipment Rental.
Business Center.
Business Phone Service.
Complimentary Printing Service.
Express Mail.
Fax.
Meeting Rooms.
Office Rental.
Photo Copying Service.
Secretarial Service.
Telex.
Typewriter.
Video Conference.
Video Messaging.
Video Phone.
ATM.
Baggage Storage.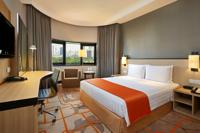 Transportation
Driving Directions from Changi Airport Singapore to Holiday Inn Atrium
• Take Airport Blvd to ECP
• Continue onto ECP
• Continue into Sheares Ave
• use any lane to turn right onto Central Blvd
• Continue onto Cross St
• Continue straight to stay on Cross St
• Continue onto Upper Cross St
• Use the left 2 lanes to turn left to stay on Upper Cross St
• Continue onto Havelock Rd
• Turn left onto Outram Rd
• Destination will be on the right
About City
Though physically small, Singapore is an economic giant. It has been Southeast Asia's most modern city for over a century. The city blends Malay, Chinese, Arab, Indian and English cultures and religions. Its unique ethnic tapestry affords visitors a wide array of sightseeing and culinary opportunities from which to choose. A full calendar of traditional festivals and holidays celebrated throughout the year adds to its cultural appeal. In addition, Singapore offers luxury hotels, delectable cuisine and great shopping! The island nation of the Republic of Singapore lies one degree north of the Equator in Southern Asia. The country includes the island of Singapore and 58 or so smaller islands. Because of its efficient and determined government, Singapore has become a flourishing country that excels in trade and tourism and is a model to developing nations. The capital city, also called Singapore, covers about a third of the area of the main island
Singapore is a small, heavily urbanized, island city-state in Southeast Asia, located at the end of the Malayan Peninsula between Malaysia and Indonesia. Singapore has a total land area of 719.1 square kilometres. The Singapore area comprises mainland and other islands. The mainland of Singapore measures 50 kilometres from east to west and 27 kilometres from north to south with 193 kilometres of coastline. Singapore is separated from Indonesia by the Singapore Strait and from Malaysia by the Straits of Johor.